Photographs of objects, places, and products
mentioned in Travel For STOICs.
one compartment of
clamshell roller bag carry-on
Contained 88 items essential for around-the-world travel.
Excellent way to hide money (remove lip balm product first). A thief will never ask for your Chapstick.
CIBO sounds like SIBO (small intestinal bacterial overgrowth), implicated in the cause of chronic diarrhea. Not a great name for an airport food emporium.
hobby airport bathroom, houston
Cramped, tiny bathroom with inward-opening doors. No hook for a purse or coat. Eva stood on the toilet, with her back against the wall, to take this photo.
albuquerque int'l sunport bathroom, new mexico
Note that the doors open OUT. The lighting is beautiful and the bathrooms are always spotlessly clean.
door Keyhole, Merida, Mexico
When inserted into the keyhole, the key just spins. Eva is supremely inept with keys and locks, so entry to her accommodations always creates a considerable amount of anxiety.
electricity-activating key jodhpur, India
Ingenious device to incentivize people not to lose their keys. No key, no lights. No TV. No Internet. Eva couldn't figure out why the metal key didn't electrocute her when she inserted it into the slot. Does anyone know the answer to this?
internet device,
merida, mexico
Large and excessively bright, sleep-disturbing internet light covered by a dark t-shirt in the photo on the right.
bus windshield cleaning, valladolid, mexico
Highly entertaining activity for the solo O-C traveler, when everyone else is inside the bus station buying snacks during this brief stop-over.
world war ii air force jacket, england
From the collection of the American Air Force Museum in Duxford. You'll have to read the book to understand why it's included.
peacock on the attack,
england
Kew Gardens, west of London, is home to an alarming number of aggressive fowl.
Lisbon's sidewalks are made of curvy patterns designed to hypnotize you as you drag your suitcase along.
sardine store,
lisbon airport
Sardines and cork are Portugal's big exports, and this Disney-inspired airport sardine store is a fitting tribute to the humble fish. Shoppers can be photographed in a queen-for-a-day sardine chair and purchase a can of sardines printed with a special date.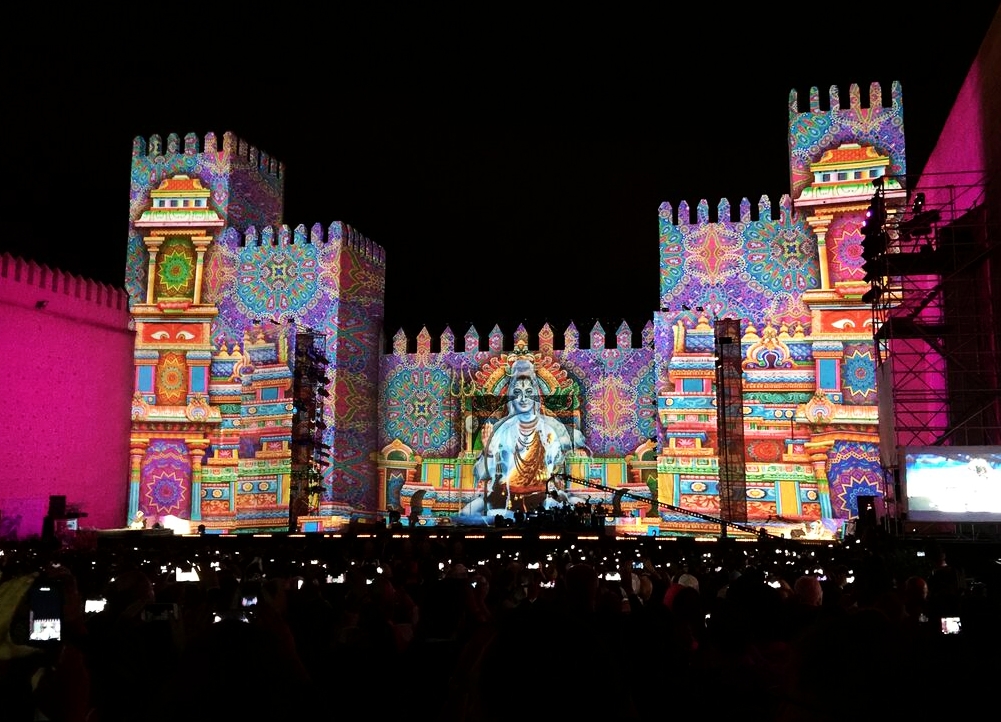 fez festival of world sacred music, fez, morocco
The best concert special effects are experienced at the Fez Festival. Watch out for jinns, drudes, and shawafas, however.
holi powders,
varanasi, india
Celebrants of this popular holiday become living canvases for tenacious and toxic chemicals disguised as beautiful, bright colors.
Ganga aarti,
varanasi, india
These are not flaming Christmas trees. Young priests are putting the Ganges River to sleep. During this nightly ritual, called Ganga Aarti, they sing to the river and recite prayers, a nice way to drift off.
the world's largest turban
In Udaipur, India. Since this photo was taken, it's been moved to a much more posh location.
An International Dark Sky Sanctuary in the middle of nowhere, New Mexico. A great place to test your solo camping skills.
An example of architecture as frozen music;
Mr. Pes Phalla.
ocd poster on the inside of a sydney airport bathroom door
It says, "I am the one that raises the whip to your already racing heart. I am the obsessive and I am the compulsive. I am the voice in your head that questions everything you do." Crikey! Welcome to Australia!
parque das aves, iguacu, brasil
In Portuguese, "puxe" (poosh-ee) means "pull", not push. To English speakers, what seems like a contradiction in terms takes some getting used to.
escalator, graal rest stop,
minas gerais, brasil
At only seven steps, the World's Shortest Escalator. Cf. the staircase to the left, with ten steps.
anxious monkey,
cuenca, ecuador
From the Jama Coaque Culture, 500 BCE - 500 CE,
Museo de las Culturas Aborigenes. This little zoomorphic figure conveys human anxiety to perfection.
Mitad del mundo, san antonio de pichincha, ecuador
Sink for demo-ing the Coriolis effect; balancing an egg on the head of a nail. The red stripe marks the line of the equator.
Riders on this bus must relinquish their seats to pregnant women, the infirm, and to those without heads.
mural, mariscal sucre int'l airport, quito, ecuador
This man, striking a Christ-like pose, has a surveillance camera implanted in his chin and a fire extinguisher in his gut.
dish drainer, quito, ecuador
A great space-saving idea for drying dishes if you're 5'6" or taller. Otherwise, you can't reach the racks. The average height of an Ecuadorian woman is 5'1/2", and an Ecuadorian man is 5'4".
Pattern of overlapping circles with hexagonal symmetry. Examples on a door in Morocco and a tissue box in my bathroom.
TimTams, Australia.
Magic Toast, Bubbly, and Cisne Ovo (swan's eggs) filled with salt, Brasil.
Muecas (silly faces), Ponky, Bony, Coca leaves, Ecuador.
Nik Naks, Discos, and Posh Bits, England.
Bikis, Tide Jasmine & Rose with Dirt Magnets, India.
Snail White, Thailand.